Soundproofing a bathroom adequately: ceramic tile or vinyl flooring?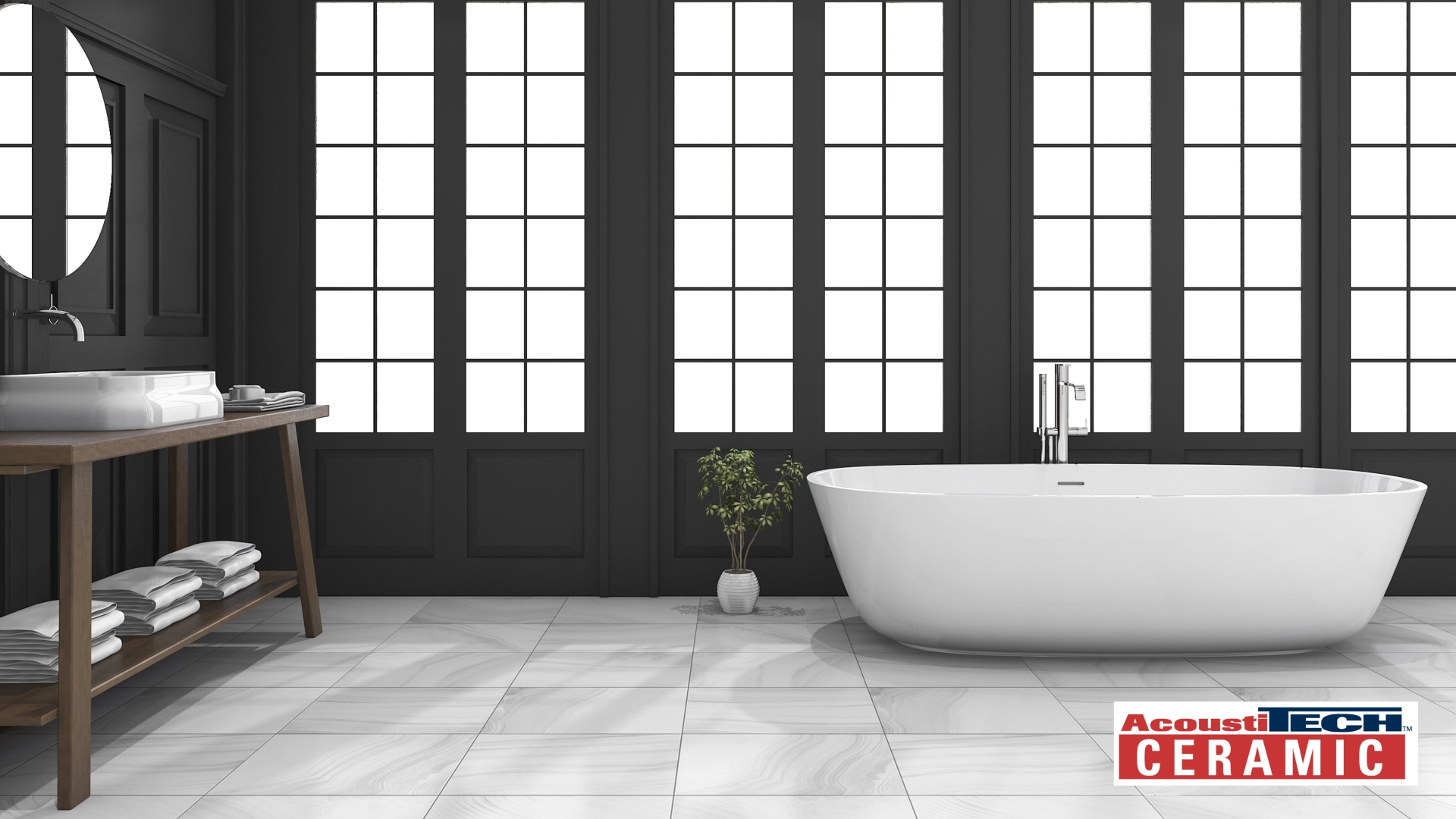 Stéphanie Landry Poirier
Monday, 15 June 2020
When living in co-property, it is important to refer to your building's remodeling package requirements for acoustics. Notably, ceramic tile is a particularly hard surface floor covering which makes it substantially more difficult to soundproof than a wood, laminate or vinyl flooring.
Even with the use of a good quality acoustical membrane, results (acoustical ratings) equivalent to other floor coverings cannot be expected. As an example, if your building's by-law is requesting a FIIC/AIIC 60 with wood flooring, expected results with ceramic tiles should be around FIIC/AIIC 55 or maybe even less.
Therefore, AcoustiTECH recommends to limit the use of tile flooring to areas such as bathroom, entrance and kitchen. Taking into consideration these limitations, the AcoustiTECH CERAMIC is one, if not, the most effective acoustical membrane on the market (supported by third-party testing).
Note that other solutions to improve performance are available. However, these solutions often mean higher floor elevation and overall costs (Ex: Fermacell 2E31). If achieving comparable results to other floor coverings is the goal, these solutions should certainly be considered.
Why ceramic tiles, stone, marble & porcelain are more prone to sound transfer?
Simple; DENSITY. Denser the floor covering is, faster vibrations (IIC) will transfer through it. In addition, these types of floor covering cannot be installed over a membrane that is too thick in fear of cracking. A membrane especially designed to meet the mechanical requirements is necessary.
New tendency and an alternative to ceramic:
We have all noticed that vinyl flooring is making a strong come back. This floor covering is becoming more and more popular, both in renovation and new construction.
Be aware! Even though vinyl is often considered "resilient" flooring, installing it without the proper decoupling membrane is not always sufficient to achieve the desired or required acoustical rating.
Depending on the type of vinyl and the building structure, it is often required to add a mechanically compatible acoustic membrane. For instance, installing vinyl flooring (LVP/LVT) over the AcoustiTECH LV membrane could result in achieving acoustical performance similar to wood or laminate flooring therefore making it a viable solution for all areas of your home.
Please note, if your building is strictly made of wood (no concrete slab or topping), it is suggested to contact the AcoustiTECH team for more specific recommendations.