Adhesives
Adhesive AD-532+
AD-532+ is an ultra light, high performance, moisture-cured, 100% urethane adhesive with solvent added and low VOC. It is designed to glue engineered wood flooring and AcoustiTECH membranes.
AD-532+ can also be used in elevated subfloor moisture conditions of up to 12 lbs. (5,44 kg) moisture vapor emission rate (MVER) and 95% relative humidity (RH) when a specific installation method and trowel notch congruation are used.
AD-532+ is 33% lighter than the majority of urethane based adhesives and is easy to trowel with excellent trowel-ridge-hold. It provides quick grab, excellent final bound strength and a greater amount of coverage.
---
Buy online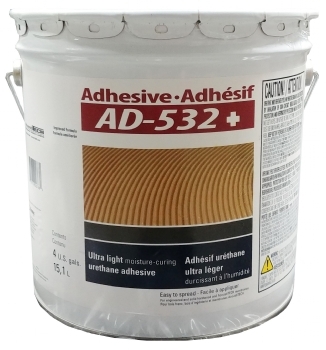 Compatible with heated floors
Easy to clean
Low odor
Easy to apply
High performance product
Validate the conformity of this product in your condo
AcoustiTECH Signed Realization